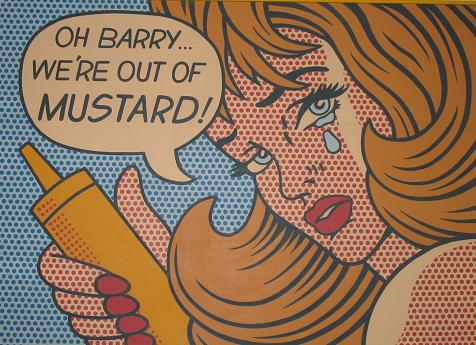 Mustard. You know you can't live without it. Yet it is so innocent and invisible, sitting there on the shelf of the fridge. Oh, and overpriced. Did I mention overpriced? Make your own, and you'll wonder why you ever bought it from a store and loaded with chemicals.
This recipe is courtesy of Sue, AKA FamilyDiva, who tells me it is an old family recipe. Her folks make this up every holiday and use it all before anyone has time to can it. I intend to remedy that last part.
Sue's Family Mustard
Ingredients:
Equal parts sugar and white flour
Dried mustard to taste
Apple cider vinegar to get consistency you like
Sue suggests:
1/4 cup sugr & flour
2 tsp mustard dried
2-3 TBLSP apple cider vinegar
This makes about 4 ounces or a very small canning jar's worth.
1. Get the canner ready before you make the recipe. WHen the bottles and lids are close to boil, turn off the heat and let them sit, covered, as you work this one out. Much of this is to taste.
2. Mix everything else, tasting as you go.
3. Place in jars. Ball book uses 10 minutes at sea level to can mustards. I am at 4K+ feet in the hills, so I let it go for 20 minutes. Frankly, I wonder if you even need to seal it, as it is so vinegar-laden, but go ahead and can it, if you want to make larger amounts to have on hand.
I promise you, it is GREAT!